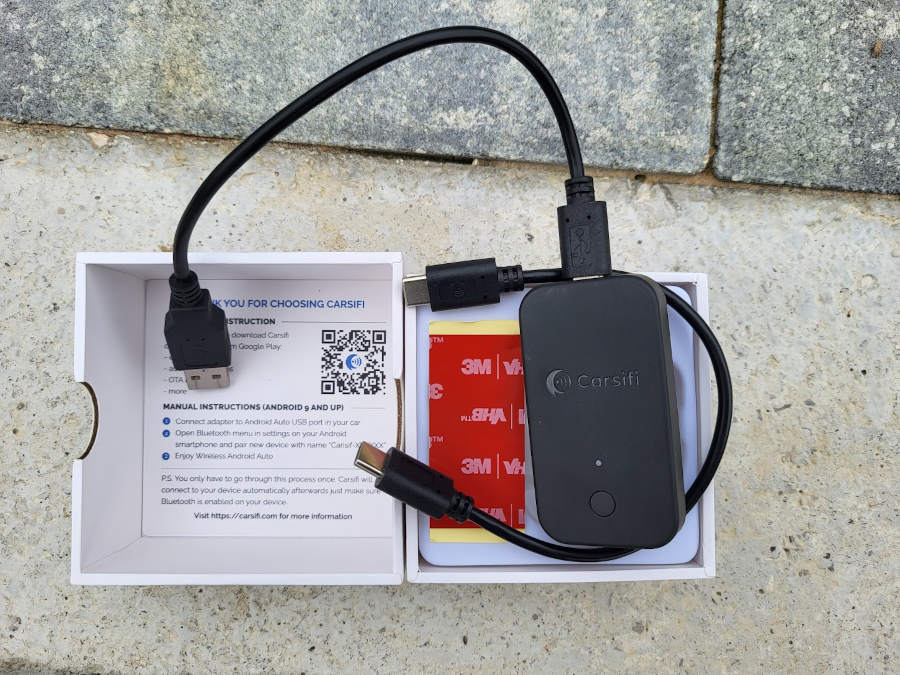 One of the most annoying things with Android Auto (besides many errors and problems) is using a cable. And not all cables are good, you must use quality cables.
Over the past couple of years, many wireless Android Auto adapters have become available. Two of the most known are Motorola MA1 and AAWireless, but you can find many others.
I bought a Carsifi (affiliate link) and here is a short review.
How does the Carsifi adapter work?
Carsifi connects your Android phone via Bluetooth and establishes a Wireless Android Auto session and shares its WiFi credentials. After that, your Android phone connects to the Carsifi WiFi network and broadcasts all data via WiFi. Carsifi uses Bluetooth only to initiate a Wireless Android Auto connection and all data is transferred via WIFI.
Inside a package you get:
– Carsifi adapter
– a short UBS-C to USB-C cable
– a short USB-C to USB-A cable
– 3M stick strip.
An adapter is smaller than I expected and I'm sure nobody will have a problem with putting it near the car's USB port. The adapter is very light with a USB-C port, status LED and one physical button.
Setup
With a little luck, the simplest way is to follow instructions inside a package. Install the application on your phone (not necessary, but it has some advantages like upgrading to the latest firmware version), connect the adapter to the USB port, and follow some steps in the application.
I have a Mazda CX-5 (2016) and therefore I wasn't so lucky. Because after 15 minutes I hadn't succeeded, I started following the troubleshooting steps in the application. The solution was to disable the "Intercept AA protocol" feature. After that, it started working like a charm. And after reading forums I can write that this is a very common problem. If you question yourself, why the authors didn't disable it by default, the answer is, that disabling the mentioned option, disables two interesting features: "Screen DPI" and "Disable tap blockers". As you can imagine, both can be quite interesting.

LED lights meaning
BLUE – adapter loading
GREEN FLASH – adapter trying to connect to a paired phone
GREEN – adapter connected to the paired phone and the AA session started
RED – something wrong happened or the connection ended
WHITE – automatic connection paused
YELLOW – reset or update the firmware is going
Operation
It works like wired Android Auto. Almost no problems with speed or transmission. The expected battery consumption is 10-20 % per hour. But it depends on many things, so we can say, it is quite reasonable. Wireless charging can be an interesting combination.
From a cold start, it takes approximately 20-60 seconds (old Mazda infotainment system and Samsung S21 FE) to start in Android Auto. Some cars start powering USB ports after any door are opened, and this can speed up starting times.
Carsifi has also a "magic button" which can be used to swap between different phones or to pause communication. Both functions could be handy.
There is not much to say. It simply works, even with voice commands. Because I always use Android Auto, I decided to disable the car's Bluetooth connection to the phone. I have heard that someone has problems with a similar case.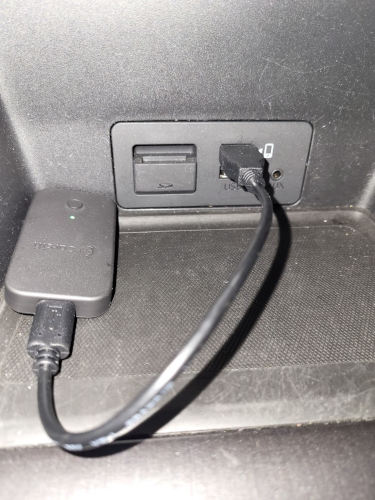 Problems I have
As I wrote above, the first problem was setting up an adapter until I found that the "Intercept AA protocol" feature should be disabled in many cars.
Then I was shocked. I got an error while trying to connect. I said that Android Auto should not use any VPN connection! But I'm using a Wireguard on my Linux server which is the gateway to the internet with some privacy/adware/malware/location protection.
The solution was excluding the Android Auto application in Wireguard. I know that now Android Auto works without "protection" and can be a "security hole", but it is good enough in my case of use.
I have occasional disconnections. But guess what? At the same location. The adapter reconnects automatically and in a reasonable time, but it is annoying. The solution was to change the WiFi channel (another solution can be changing the frequency from 5 GHz to 2.4 GHz).
Conclusion
Am I satisfied? Absolutely. Now I'm waiting for Google to patch bugs, solve annoying things, and show us a CoolWalk. Here is an affiliate link for buying a Carsifi adapter.